Meet Rigel Border Collies
We are husband and wife Border Collie enthusiasts located in Simi Valley, California where we live with our Border Collies. Over the years, we have traveled the world together visiting far-flung corners of the globe through our passion for scuba diving. We have been active with the Border Collie Club of Greater Los Angeles (BCCGLA) since 2011, are both members of Border Collie Society of America (BCSA), and we are AKC Breeders of Merit.
We appreciate that the Border Collie was bred, first and foremost, as a herding dog and passionately believe in maintaining the working ability of the breed. We also believe that sound structure and genetics are important for producing healthy dogs physically capable of doing their job, and we therefore show our dogs in the conformation breed ring as well as obtain full and appropriate health clearances on them.
We do, however, recognize that not every Border Collie owner has access, the resources, or the time to pursue these activities with their dog, and our Border Collies have great temperaments that would make them great companions in any active household.
Adrian Smith
I grew up in the North West of England at the edge of the Peak District National Park. Sheep grazing the rolling hills was a common sight, and sheep dog trials were held in the extensive grounds of Lyme Park a few miles from my family home. It was there that I came to appreciate the beauty and intelligence of the Border Collie.
Now retired, I have more time to devote to working with our Border Collies. I enjoy training our dogs at what they were bred to do (herding) and trained / trialed Buck to his herding excellent title, picking up points towards a herding championship title. I am currently training Star and Bree on sheep, and am looking forward to starting Bryce in the near future. Star is also showing talent at nosework, which she enjoys. I have been Treasurer for BCCGLA for a number of years, and have chaired several herding trials for the club. I also served as Treasurer for Border Collie Society of America (BCSA) for a couple of years.
Deanna Smith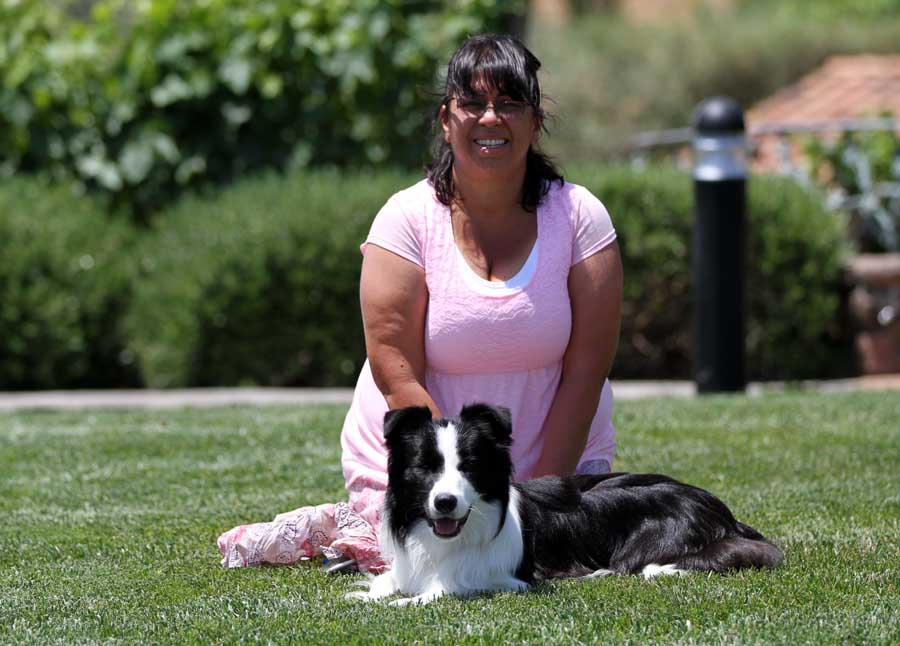 I was born and raised in Southern California, growing up in what was then the small rural town of Thousand Oaks. I was involved with 4H and showing horses as a child, and grew up with many dogs including Akita, Dalmatian, and Pomeranian. Now retired, I spend time working with and training our Border Collies.