Why you should consider a Rigel puppy

We are Border Collie enthusiasts in Southern California who are striving to improve the breed through careful breeding for excellent health, conformation, working/herding ability, athleticism and temperament. Our Border Collies are family members first and foremost, not kennel dogs, and visitors to meet them are always welcome. We only breed occasionally, and always with a reason. The parents of the current litter come from the best Australian show lines, have proven themselves in both the conformation show ring and in performance events, have full health clearances, and they have great temperaments. Details are on the dogs' individual pages. This current litter is the result of a careful breeding program that has been 4 years in the making, having taken a year to find Chloe as the perfect match for Buck and another 3 years to grow her out. Chloe's mother Tinkerbell had previously proven to be a great mother in the care she gave to her puppies, a trait commonly passed from mother to daughter. We have been delighted to observe that this has passed on to Chloe, who could not be a better mother. The mother - puppy relationship comes during the key formative first 8 weeks of life that will shape the temperament of the puppy for the rest of its life. If you are considering a puppy from elsewhere, be sure to ask the breeder about how good the mother has been at caring for her pups.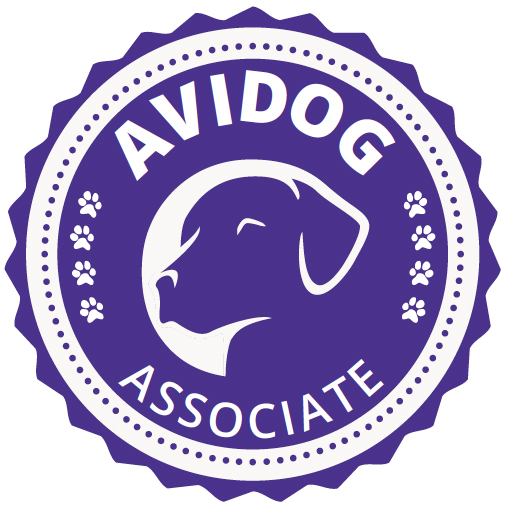 Our top priority as breeder is to raise every puppy to be as physically healthy and mentally stable as it can be, and to match it to a home where both dog and owner thrive. As previously mentioned, this starts with carefully selected breeding stock, and it continues with extensive education. We are therefore proud to be Associates of the Avidog Breeder College, led by the acclaimed canine researcher Gayle Watkins, PhD. This program provides vast resources covering the latest techniques and scientific research into virtually every aspect of breeding healthy, well-adjusted pups and preparing them for a lifetime of success. Please check them out here for further information. Benefits of the Avidog program include:
Guidelines for whelping and socializing pups to produce brave, healthy dogs.
Guidelines for early neurological stimulation (ENS). This develops the senses during the first weeks after birth when the brain's synaptic connections are still being formed, and has been shown to improve performance in adult dogs.
Tailored vaccination schedule for each litter, avoiding unnecessary excessive vaccination while providing optimum protection for the pups.
Insights into optimum nutritution for the pregnant mother and newborn pups.
Provides tools to find the best match between puppies and puppy buyers for a lifetime of success.
We take great care in matching puppies to buyers, and try to avoid against the temptation that buyers sometimes have in picking the "cute" looking puppy with perfect markings that may have the wrong level of drive for that family situation. A final evaluation occurs at 8 weeks old to match puppies to buyers. While we breed for moderate levels of drive to suit an active family looking primarily for a companion dog, some Border Collies have a lot of drive that would be best suited to an experienced Border Collie owner. To use a car analogy, we try to avoid placing a Ferrari with a new driver since accidents would be inevitable!
If you are interested in getting a puppy from us, please first read the informative Border Collie puppy buyer's guide from the Border Collie Society of America (BCSA) here. Border Collies are amazing dogs and we wouldn't be without them, but living with a Border Collie is not for everyone. Adopting a Border Collie pup is a big ~15 year commitment, so please do your homework if you have never owned a Border Collie and feel free to contact us if you have any questions. If you still believe that a Border Collie is for you and are interested in getting a puppy from Rigel Border Collies, then please contact us using the link below.