Mar 17, 2020 : Puppies are 3 weeks old
The puppies eyes have now opened. A few photos taken on March 17, 2020 are shown below:
Feb 25, 2020 : Stout & Chloe Puppies have arrived
We are pleased to announce that our latest litter was born on February 23, 2020. Mother and pups are doing well, with Chloe doing a great job as mom. A few photos taken on Day 2 are shown below:
Sept 30, 2018 : Available Puppies
Buck and Chloe are expecting puppies around October 24, 2018, and the ultrasound suggests it will be a large litter. This is a repeat breeding of the litter shown below that exceeded our hopes in what we could achieve with this mating. We anticipate that the puppies will have great temperaments, and will be suitable for active family homes. We are taking applications now, so contact us now to reserve a puppy. We will match the puppies to suit the homes they are going to, so let us know what you are looking for. The puppies will be available to go to their new homes at the end of the year.
Mar 28, 2018
The last couple of weeks have been really busy. We have said goodbye to the first 4 pups, and the remaining 3 girls will be leaving us shortly. It's sad to see the pups leave, but they are all heading to great homes and all have wonderful lives ahead of them with their new families.
Mar 11, 2018
Things have been busy at Rigel Border Collies over the last several weeks. The puppies are growing fast and have been having fun playing with their activity center, exploring the world outside in the back yard, and meeting puppy buyers. We still have one girl available to a good home, especially if you are interested in a show prospect - these girls are really pretty and should do well in the conformation ring. Puppy evaluation is next weekend, when we will be matching puppies to our waiting buyers.
Girl 1
Girl 2
Girl 3
Girl 4
Boy 1
Boy 2
Boy 3
Feb 18, 2018
The puppies are growing fast and starting to get more active. They were moved into a larger enclosure in the kitchen during the week, and are now playing with the activity center installed yesterday. Latest pictures are below:
Girl 1
Girl 2
Girl 3
Girl 4
Boy 1
Boy 2
Boy 3
Feb 12, 2018
Puppies are doing great and all are putting on good weight. No weaklings in this litter. Chloe is doing a fantastic job feeding the pups - all the weight gain is from her nursing the pups, since weaning hasn't started yet. Chloe has a ravenous appetite - she is getting 4 full meals a day to provide nourishment for the pups, but she isn't putting on weight!
Feb 11, 2018 : All eyes now open.
The pups all have beautiful dark eyes, and they are now starting to experience the world around them. What beauties they are transforming into.
Girl 1
Girl 2
Girl 3
Girl 4
Boy 1
Boy 2
Boy 3
Feb 8, 2018 : Website Upgrades and Puppy News
Sorry if you have been looking for new pictures of the puppies over the last several days, but we have been busy behind the scenes performing some major upgrades to the Puppy section to improve the User experience. We learned a lot about PHP coding and implementation on our server that took quite a bit of playing around with to get to work properly, but we hope you appreciate the end result! If you submit a Puppy Buyer Contact Form and don't hear back from us by the following day, please call or email us - our email server wasn't easy to configure to get it working consistently for form submission, but we believe it is now working as it should.
The puppies are now 2 weeks old and looking really healthy. They are all putting on good weight. Three of them have started to open their eyes, and they are all now attempting to walk rather than crawl. We have contracts in place for some of the puppies, but we still have boys and girls available to good homes. More pictures will be coming soon.......
Early Neurological Stimulation
At this early stage in the life of the pups, they are in a period of rapid neurological growth where new synaptic connections are being formed. This gives us, as breeders, a short window lasting between days 3 and 16 following birth when we can provide gentle stimuli to the pups that they wouldn't normally have at this early age. This promotes formation of new synaptic connections in the brain that would otherwise not be made. The results will stay with the pups for their entire lives and years of research has shown that it makes a big difference in producing brave, fearless pups that will have improved performance as adults.
The research originated with the US military canine "Bio Sensor" program, and later became known to the public as the "Super Dog" program. Its development utilized six simple exercises which were designed to stimulate the neurological system. Each workout involves handling the puppies once each day and gently applying a series of stimuli, each for 3-5 seconds, making sure not to overstimulate the pups. We are currently performing this early neurlogical stimulation on the pups, incorporating it with the daily weight measurements.
See here for more information about this program.
Jan 31, 2018. Puppies at Day 7
3 Boys and 4 girls will be heading to their new families at the end of March / beginning of April 2018. A few puppies are still available to good homes. If you are interested in adopting one of the pups, please fill out and return our questionnaire available here.
Buck & Chloe Puppies have arrived
We are pleased to announce that 7 puppies (3 boys; 4 girls) were born on January 24, 2018. Mother and pups are doing well, with Chloe doing a great job as mom. A few photos taken on Day 2 are shown below: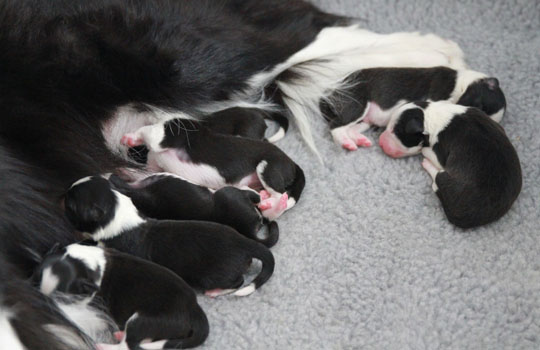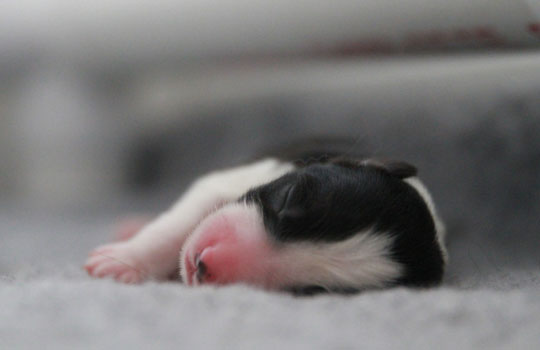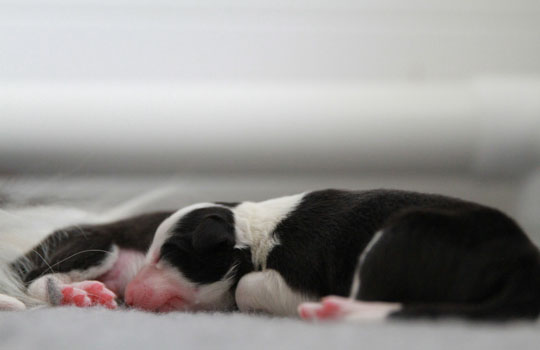 Puppies confirmed for end of January 2018
Buck and Chloe were bred at the end of November 2017, with puppies confirmed by ultrasound and expected to be available to go to their new homes at the end of March / beginning of April 2018. The waiting list is starting to fill, but there are still a few puppies available. The puppies are all expected to be black/white rough coat. Please check out our Puppies page for general information about getting a border collie puppy, and if you interested in getting a puppy from this litter please contact us. Our "Puppy Buyer Questionnaire" can be found here and will need to be filled out in order to be placed on the waiting list.
September 2017 : On the road again to Nationals
We will be travelling to the 2017 Border Collie Nationals at Purina Farms in Missouri, arriving on September 2, 2017 and departing on September 11, 2017. Adrian will be busy as Treasurer for the National club. Buck is competing in herding and conformation, including the Conformation Top 20 which he qualified for again this year. Teagan is scheduled to make her puppy debut in the 4-6 month puppy class and futurity. Stop by and see us if you are going!