BISS GCHB CHX Premiere Game of Thrones HSAs HSDs HIAs HXAs CGC TKI "Buck"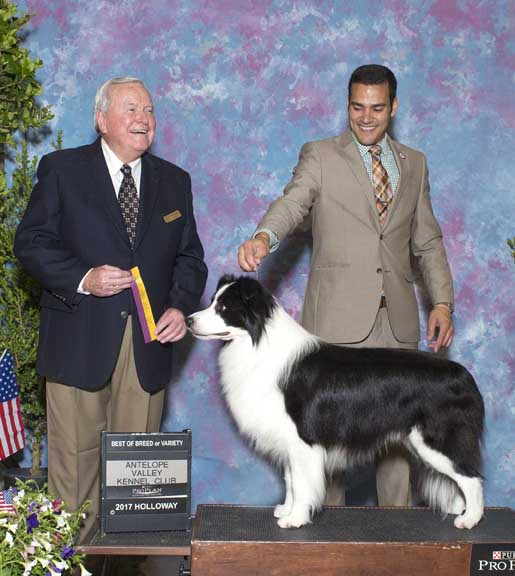 DOB: April 10, 2013
AKC Registry: DN36420801
Buck is a biddable, friendly dog who joined our family as a young pup and is a constant companion. He loves to join in with whatever we are doing while also being able to relax and unwind when not engaged. Sired by a dual champion, he has excelled in the breed ring (selected win photos here), and is showing promise as a talented herding dog. See Buck's AKC competition points record here.
Buck finished his AKC championship in April 2015. Shortly afterwards, he took Select Dog and AOM respectively at the dual BCCGLA Specialties in July 2015, and finished his GCH with a couple of breed wins at Santa Barbara in August 2015. He then showed occasionally through November 2015 before taking a winter break in conformation to concentrate on beginning his herding training.
Buck returned to the conformation ring in March 2016 and quickly completed his bronze-level GCH at Mission Circuit in May 2016 with a Group 3 win. He then took Best in Specialty Show at the BCCGLA Specialty in June 2016, propelling him to #4 breed with very limited showing (Canine Chronicle, July 2016 statistics). Buck retired from the show circuit in September 2016 and finished the year ranked #11 breed (Canine Chronicle 2016 statistics) with very limited showing. Buck qualified for the BCSA Conformation Top 20 competition in both 2016 and 2017 based upon this limited showing.
We have had our first venture into the world of herding with Buck, and have progressed together through a steep learning curve to earn the AKC advanced HXAs herding title, taking a reserve high in trial in the process. We are now working towards collecting herding championship points.
Pedigree
View Buck's pedigree here.
Health Clearance and Genetics
Buck is available for Stud to approved bitches - please contact us for details. Please check here for a full profile including health clearances and genetic profile.